Active
Unanswered
Moderators: Al Benton, Don Ayers, Don Vogt
Posts: 91
Joined: Tue Jan 09, 2007 7:23 pm
Contact:
I have just striped,sanded and bleached the engine hatch cover and am ready to refinish but before I stain (blond),seal and varnish how do I fix and permantly stop the the three plank seams that are now 1/16" wide from the expanson and contraction all the time??? On a hot sunny summer day they open up and close up on a rainy day. Last time I refinished the hatch cover I filled in the seams with varnish thinking that would help but it did not. the planks are in perfect shape along with all the bungs and I really do not want to take the hatch cover boards off and re-do . Any thoughts or ideas on how to solve this problem will be greatly appreciated as seeing the open seams drives me crazy Jw
---
You can purchase these hatch cover covers on EBay and not have to care about open seams.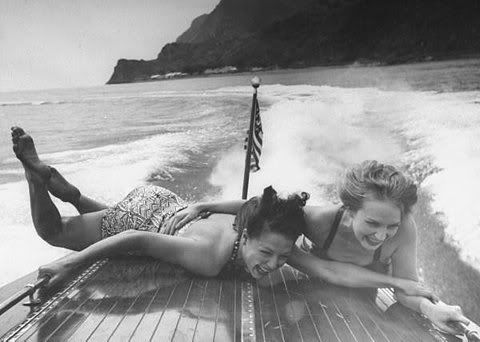 ---
If you had those girls on the back, then the problem was worth it

Anyway, I got a series of videos from
http://www.townsendboatworks.com/
and he has a video (disk 6 track 2) where he cuts and fits shims in between some hull planks. The same process would probably work on the hatch cover if replacement isn't feasible. Brandon also has a lot of videos on Youtube that are free. His finish work comes out great and I have learned a lot from watching his videos. You can find videos on Youtube if you seach "brandotown".
---
Posts: 91
Joined: Tue Jan 09, 2007 7:23 pm
Contact:
Thanks guys for the input--- so far the girls idea sounds great- but--- finding them could be a problem as at my age the ones I might be able get would have a problem even getting in the boat and where would I put their walker ??? Looking into a pair of beautiful mannequins that I could velcro to the hatch cover -- Thanks and keep those great ideas coming
---
Users browsing this forum: No registered users and 4 guests