Here is the previous posting here on THE BUZZ that introduced the Buffalo show time and place, etc.
http://chris-craft.org/discussion/viewt ... 441#p50046
NOW THE LATEST NEWS, (And Classic Chris-Craft fans..............it is BIG NEWS) !!!
~~~~~~~~~~ drumroll please ~~~~~~~~~~
Important Edit: A fiberglass Chris-Craft did, indeed, win Best of Show at Buffalo Launch Club, however, it was not the creme colored XK-19 I have previously posted, it is Dick DeFazio's fabulous black 19-foot 1969 Commander Super Sport. We knew both boats (the black Commander SS and the creme colored XK) won awards, being there at the awards dinner, but for some reason we (several of us) got the wrong impression because we heard the creme colored XK-19 winning "first place" in the CLASSIC RUNABOUT category. I think it might have been the vodka and tonic too, but that's another story, ahem! I will go through the posting below and make corrections, but for now this is the

WINNER OF BEST OF SHOW, PRESERVED AWARD

!
Dick DeFazio's 1969 19-foot v-drive Commander Super Sport !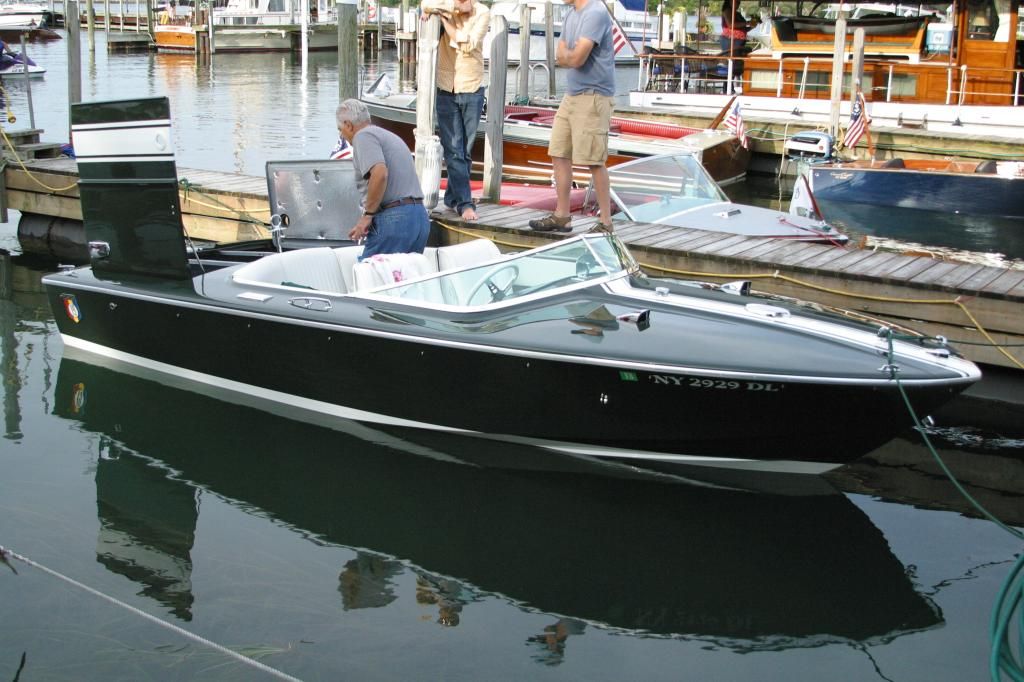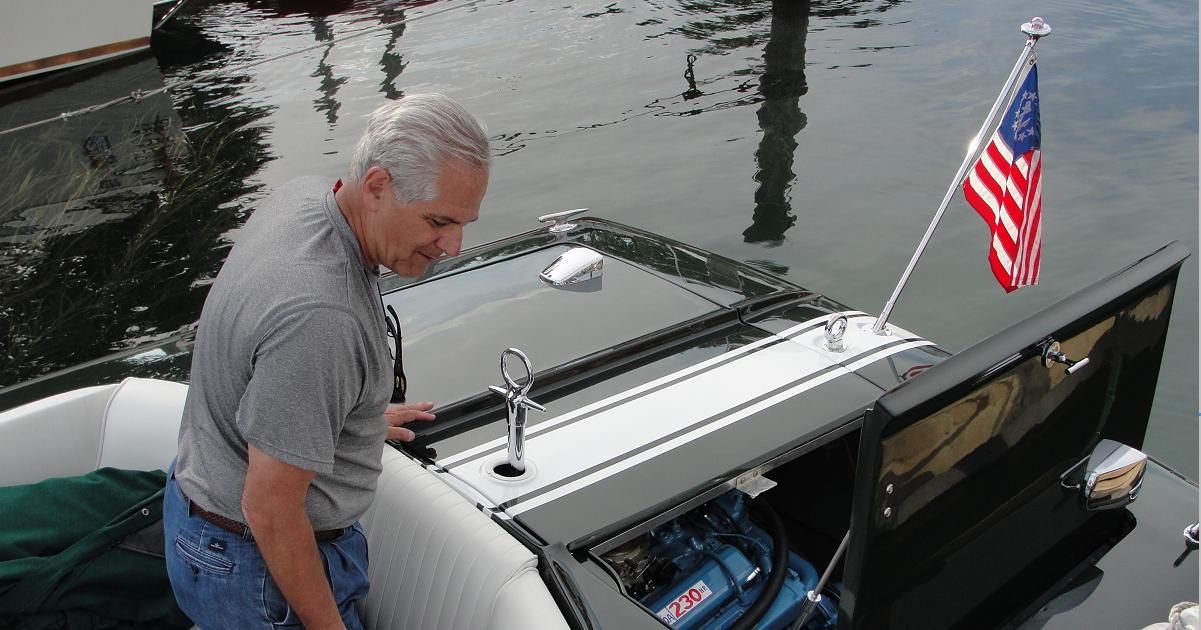 Thank you very much Tom Gruenauer, who was on the judging committee, for being so nice and low key about advising me about my faux pas posting the wrong boat as the winner, I offer my mea culpa while eating crow fixed to taste like chicken, it's a little greasy, I've had it before, I would recommend a red wine. I hope the thread is properly edited now !

regards,

Paul

A fiberglass Chris-Craft won

BEST OF SHOW

at Buffalo.
This is huge, because it is in the heart of the finest of wood boat culture, the Buffalo Launch Club is right there at the top when it comes to provenance, as they're the oldest power-boat club in the world, and known far and wide for their fine boats and awesome power-boat racing heritage.
This is a nice credit to the judges too, who gave us a chance and recognized quality in fiberglass (too), and a tip of the hat to
Tom Frauenheim
,
Rich DeGlopper
, and
Rocky Nagle
, all from Buffalo Launch Club, who are "the men" who decided it would be interesting to feature fiberglass boats (from Chris-Craft) this year. I have thanked each of these gents personally, but want to do so again here formally.
This is sure to have raised a few eyebrows with the wood boat contingent because there were some fabulous Hacker-Craft, Riva, Shepherd, Century, Lyman, and Chris-Craft wood boats there as you might expect.
I will edit this thread with more info as soon as the listing of winners is published. A huge thanks to the Nigara Frontier Antique and Classic Boats, Chapter of ACBS for their involvement at Buffalo Launch Club and doing their part in recognizing the value and historical significance of these fiberglass models; this is one very fine synergy that works well for everyone.
Here are a couple photos of the XK-19, that won
FIRST PLACE IN THE CLASSIC RUNABOUT CATEGORY, and the HARY G. WINTER CHRIS CRAFT AWARD SPONSORED BY GAIL PISA,
owned by Ed Bobowicz, thanks to photographer Craig Lindberg, of Atlanta Georgia. 1971 was a very good year, as you can see here in the photos below!
Mark Smith won
3rd place in the CLASSIC RUNABOUT CATEGORY
, with his 19-foot 1969 Chris Craft Commander Super Sport.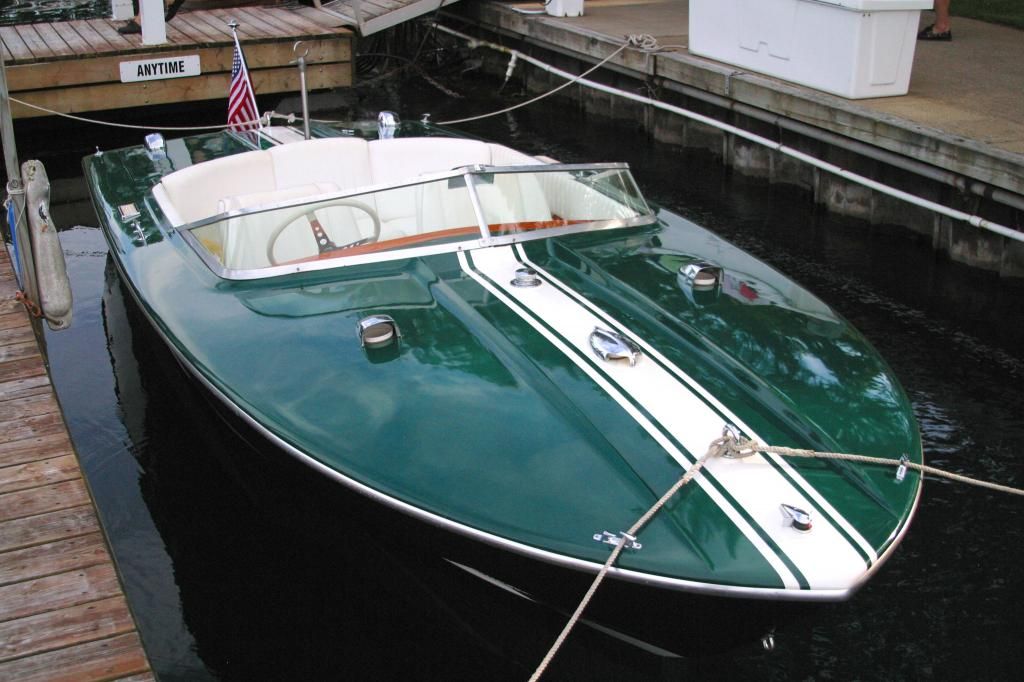 More images from the event can be found at this link
http://www.network54.com/Forum/424840/thread/1378526438
This event was well attended; none other than our own
Bill Baldwin, editor of the BRASS BELL
was there,
Herb Pocklington, Chris Smith, the Wangard boys from Classic Boating
, were all there. I suspect we'll see some good coverage of the show in upcoming boating publications.

My hat is off to BLC and Nigara Frontier Antique and Classic Boats for making the fiberglass guys feel a part of the fun, inviting us to participate, and for their overall hospitality. It is good stuff, we all like the wood boats, I have two (well actually two-and-a-half), some of them like the fiberglass boats too. Word is getting out that the fiberglass boats can be run hard and suffer little or no consequences.
In upcoming years, events like this one will go a long way to paving the way with such nice hospitality to what I believe are a pretty vast number of potential participants who own classic fiberglass boats. Let it be known they did it with class, without overtones, and we appreciate the people who had the awesome wood boats at this show for allowing us to have some fun too.
Personally, Janet and I have been to just about "every yacht club in North America" over the last 30=at least it feels that way. When it comes to provenance and being able to put on snooty aires about your history and standard of boating, I dare say Buffalo Launch Club could do it well, but instead, they put all that aside and opened their doors and their show. Heck, I though we southerners were the ones who had the hospitality thing down.
It is all good.
Regards,
Paul